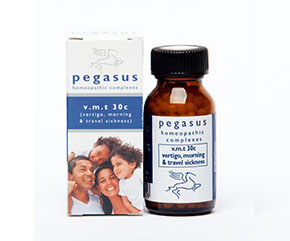 Indications:
A homeopathic remedy for nausea, vomiting and vertigo associated with travel sickness and for morning sickness in pregnancy.
It is also useful for vertigo (dizziness) due to other conditions causing balance disturbances.
Ingredients:
| Remedy | Symptoms covered by specific remedy |
| --- | --- |
| Carbo vegetabilis 12c | Useful for the exhausted, weak patient. Vertigo, nausea and listlessness. Feels as though must hold onto something or will fall. |
| Chininum sulphuricum 30c | Vertigo with nausea and buzzing or ringing in the ears, often accompanied with vomiting. Head feels heavy, headache. Helpful in Meniere's disease. |
| Cocculus indicus 30c | True vertigo, 'world seems to be spinning', must lie down or will faint, nausea upon rising. Motion sickness especially at sea. Feels dizzy watching moving objects or observing objects in a moving vehicle. Nausea at mere thought of food. |
| Ipecacuanha 30c | Vomiting during pregnancy with constant nausea, also during breast feeding. Vertigo while pregnant, when walking or turning. Worse for smoke and smell of food. Nausea from looking at moving objects, nausea not relieved by vomiting. |
| Lacticum acidum 30c | Morning sickness, nausea as if sea-sick. Nausea with any motion. Symptoms improve with eating, especially breakfast when pregnant. |
| Petroleum 30c | Motion sickness especially at sea or on trains, violent vomiting in the morning. Morning sickness of pregnancy, worse for riding in a vehicle. Vertigo on rising, on closing eyes and stooping, tendency to fall forwards. Nausea better after eating. |
| Sepia 30c | Nausea & vomiting of pregnancy. Craves sweets, vinegar and sour foods. Vertigo accompanied by nausea and anxiety. Nausea from riding in a vehicle. Symptoms improve with eating. |
| Tabacum 30c | Severe nausea with a sinking feeling in pit of stomach and a cold sweat. Deathly pale. Nausea with dizziness, headache. Seasickness, patient needs to be up on deck with fresh air. Nausea in pregnancy. |
IMPORTANT NOTE:
As a general rule, if a positive response has not been seen within 24-48 hours, please consult with your homeopathic practitioner or your General Practitioner.
Dosage:
One dose is 3-5 pillules sucked under the tongue in a clean mouth, this applies to adults, children and animals alike.
In acute cases, dose every half hour for 3 doses then every hour for 3 doses.
Continue dosing every 2 – 4 hours until relief is obtained, thereafter as required for 3-5 days.
For travel sickness, start dosing one hour before journey starts and continue as above.

See Dosing Guidelines for further details.
Warning:
For those taking blood-thinning agents e.g. warfarin, clopidogrel, heparin etc.
together with this remedy, there is a low risk of affecting the clotting process in sensitive individuals.
See last paragraph under
dosing guidelines
called 'blood-thinning agents'.