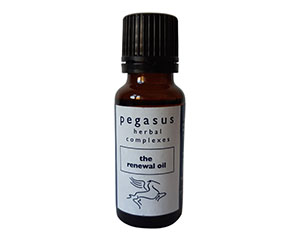 Indications:
The renewal oil (topical application) combines pure tissue oil with natural herbal extracts, thereby toning, rehydrating and feeding the skin, promoting skin elasticity and healing post labour. Minimizes scarring post birth and post-surgical procedure. Useful also to minimizing stretch marks. Wonderful even as a daily application to reduce the 'ageing process' of the skin (hands and face)
Ingredients:
| Remedy | Symptoms covered by specific remedy |
| --- | --- |
| Pure Tissue Oil with Mother tincture extracts of Arnica | Anti-inflammatory and peripheral circulation stimulation. |
| Calendula | Healing and Soothing & disinfecting. Lavender & Rosemary Improves circulation, enhancing healing. |
IMPORTANT NOTE:
As a general rule, if a positive response has not been seen within 24-48 hours, please consult with your homeopathic practitioner or your General Practitioner.
Directions:
Massage gently with fingertips in a circular motion 2-3 times daily, to the perineum before and post birth. (Begin application only once 'scabbing' has completed, in cases of surgical procedures.
Warning:
Do not apply to broken skin.