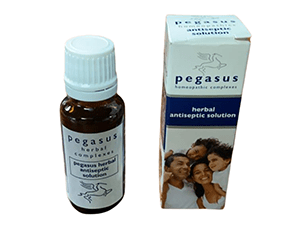 Indications:
A healing, soothing antiseptic solution for topical application to wounds such as cuts, scratches, abrasions, puncture wounds, minor burns and mouth ulcers. Can also be used in a nebuliser (for acute conditions) or vaporiser (steaming in a room overnight) for helping to manage upper respiratory, sinus or 'chesty' conditions especially for covid symptoms.
Ingredients:
| Remedy | Symptoms covered by specific remedy |
| --- | --- |
| Calendula officinalis | The mother tincture of the marigold plant is helpful for topical infection, irritation and inflammation of minor injuries. Contains alcohol 40%v/v. |
| Hypericum perforatum | the mother tincture of the St John's Wort plant has antibacterial, anti-inflammatory and pain-relieving properties. Contains alcohol 60% v/v. |
| Colloidal silver | a 20% solution is helpful for bacterial, fungal & viral infections. |
Directions for application:
Cleanse the wound with normal saline or clean water and then apply the herbal solution directly to the wound. Repeat 2-3 times daily as required. The solution contains alcohol which may result in a mild stinging sensation upon initial application. The stinging will ease after a few seconds.(if too 'stingy' dilute with a little water) If the wound becomes infected, consider taking the anti-virabac 30c remedy orally.
If required, soak a dressing with the herbal solution and apply to wound. Leave dressing in place undisturbed for 1- 2 days. Re -soak with the herbal solution from time to time.

Directions for Nebulizing or Vaporizing: Dilute 15 drops of the Antiseptic Solution in 10ml water (in the nebulizer reservoir) or 15 drops in 20ml water in the vaporizer reservoir and steam in room overnight.

NB:
The Pegasus herbal antiseptic solution is indicated for topical application to wounds BUT can be used in the mouth for mouth ulcers, (dab with a cotton bud) and as a gargle for sore throats (dilute 10 drops in 10ml water)