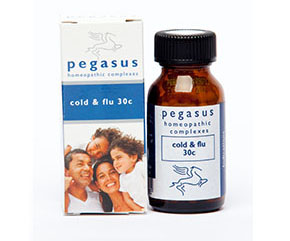 Indications:
A homeopathic remedy for typical head cold symptoms e.g. headache, thick stuffy head and nose, body aches, runny nose, fever etc.

This remedy can safely be taken in conditions where regular cold & flu medication is contra-indicated e.g. high blood pressure.
Ingredients:
| Remedy | Symptoms covered by specific remedy |
| --- | --- |
| Allium non dei. cepa 30c | Copious, acrid watery nasal discharge which burns upper lip and nostrils; red, burning and watery eyes; sneezing; headache from congestion; raw throat with pain extending to ear; incessant hacking, tickling cough. |
| Anas Barb 200c | Anti-viral agent which boosts immunity against influenza. |
| Belladonna 30c | Sudden onset of symptoms; burning high fever; hot, dry and flushed skin; throbbing headache; tickling in nostrils and sneezing; raw throat; tickling, dry cough; swollen glands in neck. |
| Chamomilla 30c | Fever and thirst; body aches; hot runny nose; blocked nose with loss of smell, restlessness. |
| Eupatorium perfoliatum 30c | Pain and aching deep in the bones. Restless. Runny nose with laryngitis and bronchitis. |
| Euphrasia 30c | Burning, watery discharge from eyes, sensitive to light. Bland watery discharge from nose. Headache from congestion. Cough with much mucus. Patient feels chilly and cold with feeling of a "cold in the eyes". |
| Ferrum phosphoricum 30c | Mild fever, flushed face, nasal discharge. Bruised soreness of chest, shoulders and muscles; sore throat; tickling, hacking cough. |
| Gelsemium 30c | Dullness, dizziness, drowsiness and trembling. Heavy eyelids, headache, weakness and wants to lie down. No thirst. Flu. |
| Kali bichromicum 30c | Thick mucous congestion, post-nasal drip, general weakness without fever; bones and scalp feel sore. |
| Salicylicum acidum 30c | Body and joint pain; headache; dizziness; runny nose and sneezing; painful, red swollen throat with difficulty in swallowing, hot burning skin. |
IMPORTANT NOTE:
As a general rule, if a positive response has not been seen within 24-48 hours, please consult with your homeopathic practitioner or your General Practitioner.
Dosage:
One dose is 3-5 pillules sucked under the tongue in a clean mouth.
Dose every hour for 3 doses, then every 2 – 4 hours until relief is obtained.
Continue dosing 3 times daily for 3-5 days.
If no response within 48 hours i.e. fever persists or worsens, seek professional medical help.

This applies to adults, children and animals alike. See Dosing Guidelines for further details.
Warning:
For those taking blood-thinning agents e.g. warfarin, clopidogrel, heparin etc. together with this remedy, there is a low risk of affecting the clotting process in sensitive individuals. See last paragraph under dosing guidelines called 'blood-thinning agents'.