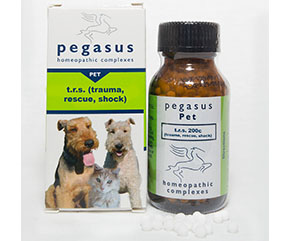 Store below 25 C
Keep our to reach of children.
Indications:
For shock, grief, traumatic experiences and separation anxiety.
---
Ingredients:
Aconitum nepellus 200c – Excellent for the effects of fright or shock e.g. anxiety, fear and restlessness. The patient is easily startled and is oversensitive to pain. Useful for panic attacks, for fear of flying, driving in vehicles, crowds, people and claustrophobia.
Anica montana 200c - Excellent shock remedy for both physical and mental aspects.
Gelsemium 30c – Centres on nervous system, often causing motor paralysis/ prostration & trembling. Emotional excitement and anticipatory anxiety (lack of courage e.g. impending visit to the vet). Anxiety during and apprehension at approach of thunderstorms, fire crackers, etc.
Ignatia amara 200c – The remedy of choice for grief. Useful in hysteria, fright and worry from emotional state, extreme mood changes. Separation anxiety.
Rescue Remedy 200c – Contains the Bach flower remedies of Impatiens, Clematis, Rock rose, Star of Bethlehem and Cherry Plum. Comforts, reassures and calms where upsetting news is heard or a startling experience has occurred/is occurring.
---
Dosage:
5 pillules (dogs & cats) & small animals.
10 pillules (horses & large animals)
Hourly for acute conditions x 3 doses, then 2 -4 hourly x 3 doses. Thereafter, 1 to 3 times daily till well.
See Dosing Guidelines for further details.