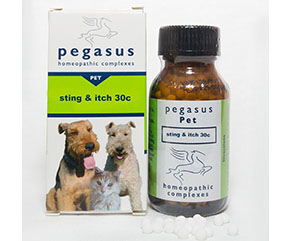 Store below 25 C
Keep our to reach of children.
Safe to use in breeding, pregnant, lactating and young/newborn animals.
Indications:
For insect stings and bites ; attends to the burning, stinging & itching associated with allergies also.
---
Ingredients:
Apis mellifica 200c - Symptoms include pinkish swelling, stinging, burning & itching sensation associated with stings on the skin, eyes, face and throat (including constriction) Can be used in individuals sensitive to bee stings(should build up a tolerance within a few episodes)
Arnica montana 30c – Tingling itchy, burning skin after insect bites or stings, where skin is hot, hard shining and swollen. Tissue degeneration + septic conditions, Skin is painful and sensitive.
Carbolic acid 6c - Urticaria, itchy skin better for rubbing but leaves a burning pain, Blistering of skin. Antiseptic.
Causticum 30c - Excellent remedy for burns, especially when difficult to heal; itching and burning skin.
Histaminum 30c - This remedy acts as a homeopathic antihistamine and is helpful for itchy red skin with swelling and weals.
Ledum 30c – Burning & stinging of skin from puncture wounds of bites & stings of insects – skin purple & puffy. Also useful with skin rash as if from nettles with violent itching.
Urtica urens 6c – Helps with stinging, burning pain and intense itching with redness of the skin.
---
Dosage:
5 pillules (dogs & cats) & small animals.
10 pillules (horses & large animals)
Hourly for acute conditions x 3 doses, then 2 -4 hourly x 3 doses. Thereafter, 1 to 3 times daily till well.
See Dosing Guidelines for further details.