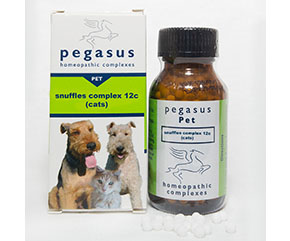 Store below 25 C
Keep our to reach of children.
Safe to use in breeding, pregnant, lactating and young/newborn animals.
Indications:
To treat the associated symptoms & conditions of cat Rhinotracheitis.
---
Ingredients:
Allium cepa 6c - Frequent sneezing with copious and watery, acrid nasal discharges; watery secretions from red and burning eyes.
Euphrasia 6c – Burning, watery discharge from eyes, sensitive to light. Bland watery discharges from nose, cough with much mucous. Symptoms of "cold in the eyes"
Feline rhinontracheitis 30c – Nosode of the diseased discharge – "like cures like"
Nat mur 12c – Violent sneezing with watery discharge, changing to nasal congestion and difficulty in breathing; burning, itching eyes with swollen lids.
Sabadilla 12c – Violent spasmodic sneezing causing frontal sinus pain. Itching and tickling in ears and nose; nasal congestion, over-sensitivity to odours, especially flowers causing secretions of a transparent mucous. Red burning eyelids, eyes that water especially on going into the open.
---
Dosage:
5 pillules (dogs & cats) & small animals.
10 pillules (horses & large animals)
Hourly for acute conditions x 3 doses, then 2 -4 hourly x 3 doses. Thereafter, 1 to 3 times daily till well.
See Dosing Guidelines for further details.