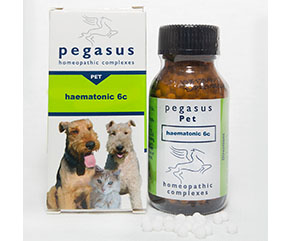 Store below 25 C
Keep our to reach of children.
Safe to use in breeding, pregnant, lactating and young/newborn animals.
Indications:
For the use as a general blood tonic. Excellent in recuperative situations,
e.g. post Biliary and surgical procedure or general debilitation.
---
Ingredients:
China 30c – For patient who shows profuse exhaustion/weakness – aversion to both mental & physical effort. Excellent where loss of fluids, haemorrhages, diarrhoea or diuresis leads to debility. Acts on liver, spleen, digestive organs, nerves, blood, circulation and secretions. Affects post-operative gas pains with loss of appetite. Patient often has abnormal irritability & nervous sensitivity/ mental excitement. Inflammation post haemorrhage, leading to part turning black. Strengthens heart & circulation- stops haemorrhage –aids in anaemia. Lameness / weakness of affected part.
Chinin sulph 6c - Affects nerves (patient sensitive to external influences), circulation, liver & spleen. Debility from loss of fluids – esp. blood loss. Increases Haemoglobin.
Ferrum met 6c – Improves composition of blood – attracts oxygen. Patient generally anaemic with low mental & physical energy. Works well in young females, growing too rapidly. Irregular distribution of blood – haemorrhage with bright or small clots. Addison's disease, Paralysis from loss of fluids.
Ferrum phos 6c – Sensitive, nervous, anaemic, prostrated patients, susceptible to chest troubles. Catarrhal affections of respiratory tract. Bright haemorrhage from any orifice – increases haemoglobin. Affects venous circulation. 1st stage congestion & inflammation of lungs & rapid pulse(short, quick, soft) at 1st stage of cardiac diseases.
Phosphoric acid 6c – Acid debility very marked leading to nervous exhaustion – mental debility 1st, then physical – young patients growing too rapidly or system been exposed to ravages of acute disease, excesses, grief & loss of initial fluids. Acts on liver, spleen, pancreas & optic nerve, low fever and sweats.
Phospherous 30c – Affects profoundly the nutrition and function of every tissue – from bone to nerve and blood. Young patients growing rapidly – liver, spleen, blood vessels, pancreas, anaemia, composition of blood optic nerves (eyes) nervous system, lungs & metabolism generally. Patient prostrated & weak.
Cardus mar 6x – Has a specific relation to vascular systems – varicose veins & ulcers. Haemorrhages, esp. connected to liver disease with debility and fatigue, also affecting lungs (haemophysis)
Chelidonium 6x – Prominent liver remedy covering many direct reflex symptoms associated with liver disease e.g. general lethargy, depressed lung and respiration- indisposition to effort. Affects heart and eyes.
---
Dosage:
5 pillules (dogs & cats) & small animals.
10 pillules (horses & large animals)
Hourly for acute conditions x 3 doses, then 2 -4 hourly x 3 doses. Thereafter, 1 to 3 times daily till well.
See Dosing Guidelines for further details.