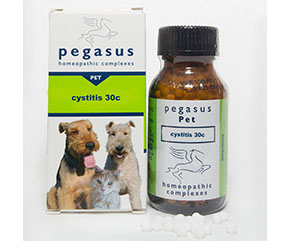 Store below 25 C
Keep our to reach of children.
Safe to use in breeding, pregnant, lactating and young/newborn animals.
Indications:
For typical acute symptoms of cystitis; frequent urging to urinate, burning, involuntary urination & pain in bladder area.
---
Contents:
Berb. 30c, Canth. 30c, Equis. 30c, Merc. 30c, Sars. 30c.
---
Dosage:
5 pillules (dogs & cats) & small animals.
10 pillules (horses & large animals)
Hourly for acute conditions x 3 doses, then 2 -4 hourly x 3 doses. Thereafter, 1 to 3 times daily till well.
See Dosing Guidelines for further details.