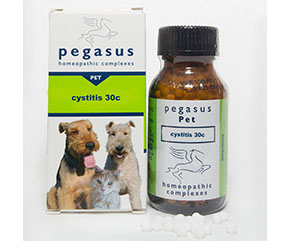 Store below 25 C
Keep our to reach of children.
Safe to use in breeding, pregnant, lactating and young/newborn animals.
Indications:
For typical acute symptoms of cystitis; frequent urging to urinate, burning, involuntary urination & pain in bladder area.
---
Ingredients:
Berberis vulgaris 30c – Radiating pains in the bladder region; the sensation of some urine left behind; urine may contain mucous; urge to urinate frequently, the urethra may burn even when not urinating.
Cantharis 30c – Intolerable and constant urge to urinate. Urine is scanty and passed drop by drop with burning pain. Involuntary urination or dribbling after urination.
Equiseturn 30c – Bladder area is tender & painful with a feeling of fullness that does not improve after urination. Urine flows only drop by drop. Incontinence.
Merc sol 30c – Burning, scalding, stinging, cutting during urination. Burning in forepart of urethra on passing last drops with haemorrhage; urine may contain mucous, blood or pus. Frequent urinating which smells pungent & sour.
For re-occurring infections – add the anti-virabac 200c remedy and alternate it with the cystitis remedy.
---
Dosage:
5 pillules (dogs & cats) & small animals.
10 pillules (horses & large animals)
Hourly for acute conditions x 3 doses, then 2 -4 hourly x 3 doses. Thereafter, 1 to 3 times daily till well.
See Dosing Guidelines for further details.