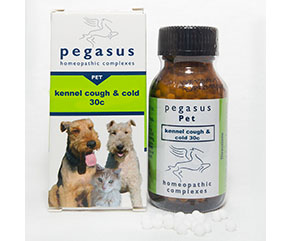 Store below 25 C
Keep our to reach of children.
Safe to use in breeding, pregnant, lactating and young/newborn animals.
Indications:
For chest symptoms, including cough, cold & fever.
---
Ingredients:
Belladonna 30c – Sudden onset of symptoms; burning high fever, hot, dry & flushed skin, tickling in nostrils with sneezing, raw throat, tickling, dry cough, swollen glands in neck.
Cortisone 6c – Anti-inflammatory action without side effects of allopathic drug.
Ferrum phosphoricum 30c – Dry hacking cough that is often painful with a heavy chest. Bruised soreness of chest, shoulders and muscles. Sore throat, tickling, hacking cough.
Kennel cough 30c - (Canine tracheobronchitis) Nosode – "like cures like"
Spongia tosta 30c – Hollow barking "whooping cough"; or tight & croupy.
Dryness of the mucous membranes of tongue, larynx, trachea & throat. Wheezy, asthmatic, hoarseness with profuse expectoration. Better for drinking.
---
Dosage:
5 pillules (dogs & cats) & small animals.
10 pillules (horses & large animals)
Hourly for acute conditions x 3 doses, then 2 -4 hourly x 3 doses. Thereafter, 1 to 3 times daily till well.
See Dosing Guidelines for further details.