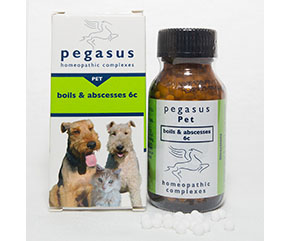 Store below 25 C
Keep our to reach of children.
Safe to use in breeding, pregnant, lactating and young/newborn animals.
Indications:
For localised infections of a festering nature e.g. boils, abscesses, pustules and anal gland abscesses.
---
Ingredients:
Gunpowder 6c – Holds and localises infection, preventing spread to deeper tissue.
Hepar sulphuris 6c - In low potency, useful for suppuration and aids in removal of foreign bodies. Thick sour-smelling pus, abscesses and putrid ulcers.
Myristica sebifera 6c – This remedy has a marked antiseptic action and hastens suppuration. Useful for ulcerative inflammation, fistulas and carbuncles.
Silicea 6c – Silica, known as the homeopathic surgeon, will help push splinters (foreign bodies) out of deeper tissue.
---
Dosage:
5 pillules (dogs & cats) & small animals.
10 pillules (horses & large animals)
Hourly for acute conditions x 3 doses, then 2 -4 hourly x 3 doses. Thereafter, 1 to 3 times daily till well.
See Dosing Guidelines for further details.
Warning:Not for animals with pacemakers or prostheses with screws or wires in body.
These may be rejected.