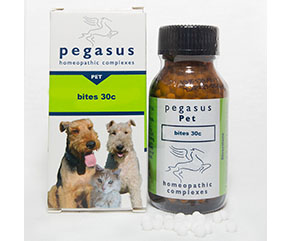 Store below 25 C
Keep our to reach of children.
Safe to use in breeding, pregnant, lactating and young/newborn animals.
Indications:
For Dog, Spider, Scorpion and Snake Bites
---
Contents:
Androc 30c, Bit-ar. 30c, Carb-ac. 30c, Echi. 30c, Gua. 30c, Hep. 200c, Hyper. 200c, Lach. 30c, Led. 30c, Naja. 30c, Tarent-c. 30c
---
Dosage:
5 pillules (dogs & cats) & small animals.
10 pillules (horses & large animals)
Dose every 10 min for the first hour, while taking animal to/or awaiting veterinary help, then 1-2 hourly. c (Can alternate the T.R.S.200C remedy for shock)
See Dosing Guidelines for further details.
NB. Getting the animal to professional medical help is of paramount importance,especially in the case of venomous snakes & scorpions.