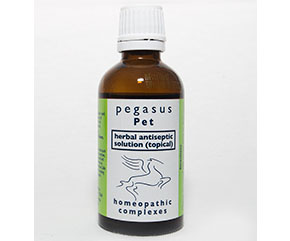 Store below 25 C
Keep our to reach of children.
Safe to use in breeding, pregnant, lactating and young/newborn animals.
Indications:
For topical application to wounds such as tissue trauma, lacerations, scratches, abrasions and puncture wounds.
The solution helps to soothe, heal and prevent infections.
---
Ingredients:
Calendula officinalis – The mother tincture of the marigold plant is helpful for topical infection, irritation and inflammation of minor injuries, Contains alcohol 40% v/v.

Hypericum perforatum – The mother tincture of the St John's Wort plant has antibacterial,
anti-inflammatory and pain-relieving properties. Contains alcohol 60% v/v
Colloidal silver – A 20% solution is helpful for bacterial and fungal infections.
---
Dosage:
Cleanse the wound with normal saline or clean water. Apply the herbal solution directly to the wound.
Re-apply twice daily or as required until wound has healed.
Hourly for acute conditions x 3 doses, then 2 -4 hourly x 3 doses. Thereafter, 1 to 3 times daily till well.
See Dosing Guidelines for further details.