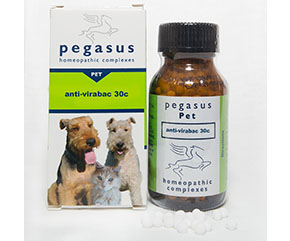 Store below 25 C
Keep our to reach of children.
Safe to use in breeding, pregnant, lactating and young/newborn animals.
Indications:
A homeopathic 'antibiotic' for bacterial & viral infections.
---
Ingredients:
Baptisia tinctoria 30c - Intense weakness, patient must lie down, obvious sick feeling, "too sick to move". Heavy aching muscles. Severe viral infection, septic conditions.
Gunpowder 30c - Localises the infection preventing deeper penetration into tissues.
Mercurius sol 200c - Helpful for acute infections. Helps the body to deal with viral infections.
Penicillinum 30c – Homeopathically prepared nosode of penicillin. Anti-bacterial action without negative aspects of allopathic antibiotic.
Pyrogenium 30c – Helpful remedy for septic states and blood poisoning. Restlessness, offensive discharges, painful burning abscesses.
Staphyloccocinum 30c – Homeopathically prepared nosode, under sterile conditions and safe for the treatment of infections.
Streptococcinum 30c - Homeopathically prepared nosode of streptomycin, under sterile conditions for the treatment of infections, without the negative aspects of the allopathic antibiotics.
---
Dosage:
5 pillules (dogs & cats) & small animals.
10 pillules (horses & large animals)
Hourly for acute conditions x 3 doses, then 2 -4 hourly x 3 doses. Thereafter, 1 to 3 times daily till well.
See Dosing Guidelines for further details.